BYRON PANTOJA PASSES CQI'S ARABICA QUALITY GRADER CERTIFICATION
Byron Bee Pantoja, our Production Manager, passed the examinations as a Certified Quality Arabica Grader by the Coffee Quality Institute (CQI).
According to the CQI website:
An Arabica Q Grader is an individual who is credentialed by the CQI to grade and score coffees utilizing standards developed by the Specialty Coffee Association of America (SCAA).
Currently, there are no formal requirements to enroll. However, the Q Grader Exam is not a course for inexperienced or new cuppers; it is an advanced level course. It is highly recommended that you practice your skills by signing up for SCAA Skill Building Workshops offered throughout the year, including SCAA events.
The course for becoming a Q Arabica Grader prepares participants for the 22 tests they must pass to become a certified Q Grader. The tests relate to an individual's ability to accurately and consistently cup and grade coffee according to SCAA cupping and grading standards and protocols, including a thorough understanding of the SCAA cupping form.
A student who passes these 22 tests is given a professional license as a Q Grader. This license must be renewed every 3 years by attending a Q Grader calibration to ensure the Q Grader is up-to-date.
Coffee For Peace also congratulates the four candidates from among Byron's batch who also passed this exam.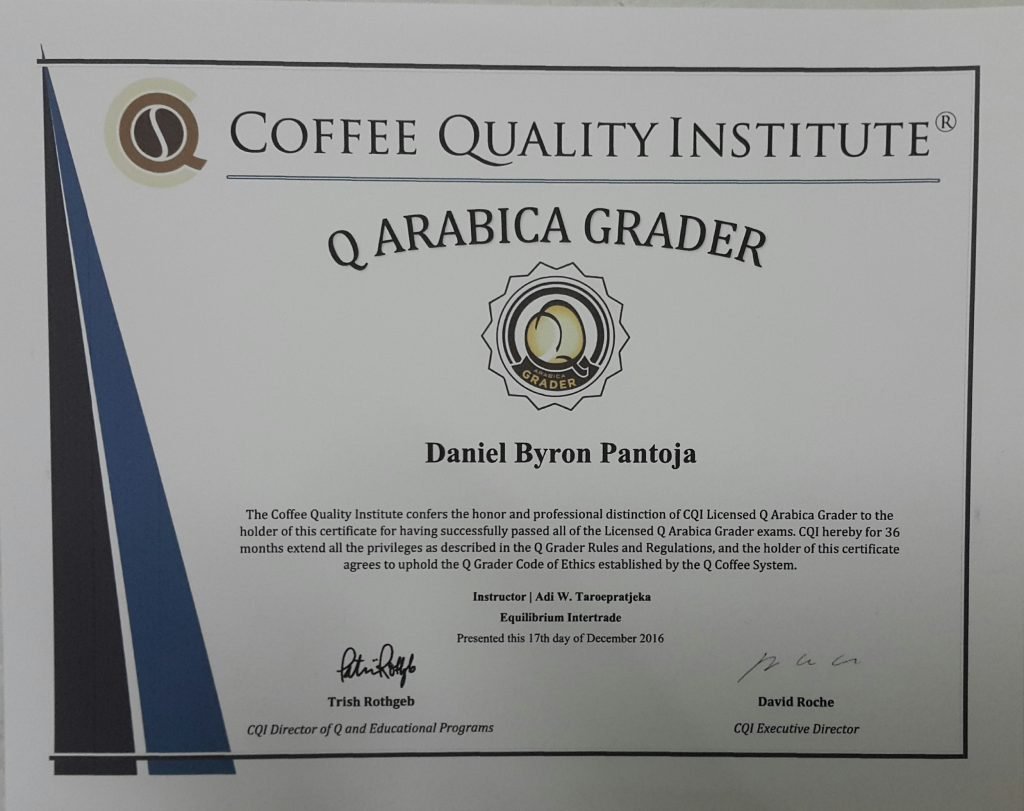 The Mindanao Daily Mirror featured Byron's story in their December 27, 2016 issue:
Some coffee growers and processors from Davao City were promoted as Q graders and cuppers.
Department of Trade and Industry-Compostela Valley (DTI-ComVal) Provincial Director Lucky Siegfried Balleque in an interview said of the 15 coffee growers who attended the training held at the Equilibrium Laboratory in Dacudao St. from December 12 to 17, only four growers and processors from Davao passed.
Balleque named Byron Bee Pantoja of Coffee for Peace as among the four coffee growers who are now certified Q Graders.  He said  Pantoja passed the examinations as a Certified Quality Arabica Grader by the Coffee Quality Institute (CQI).  He however did not name the other three Q graders.
"If you want to know what grade your coffee is they can cup and grade them for you now," Balleque said.