BUDDING MINDANAO ENTREPRENEURS VISIT COFFEE FOR PEACE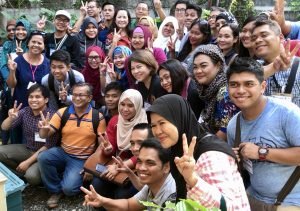 Coffee For Peace Bistro hosted the Social Enterprise Ideation campers during their learning tour last Thursday, 30 November 2017. We presented various concepts that was consistent with their theme: "Local Changes: Ideas to Impact Social Enterprise".
This ideation camp is facilitated by the CSO SEED Philippines and was supported by the European Union in the Philippines and British Council – Philippines in partnership with Office of the Regional Government of the Autonomous Region in Muslim Mindanao (ORG ARMM) and the Department of Trade and Industry (DTI ARMM).
Bayan Academy managed this 6-day social business ideation camp.
---
Mission of CSO SEED Philippines
Strengthening Civil Society Participation in Social Enterprise Education and Development or CSO-SEED aims to improve civil society participation in policy reforms to develop an environment conducive to decent work, job creation and small and medium enterprise (SME) development. The project does this by using social enterprise a s development pathway.
With a project duration of three years, CSO-SEED's focus is the Autonomous Region of Muslim Mindanao or ARMM, along with other Bangsamoro areas in Mindanao. These are areas affected by conflict and underdevelopment for over four decades.
Led by the British Council and co-funded by the European Union, CSO-SEED seeks to build a stronger SME sector through the promotion of social enterprise, considered a sub-category of SME. The focus on social enterprise development delivers an innovative approach to respond to issues around decent work and job creation.
Social Enterprises offer a sustainable and empowering way to support inclusive economic development, reducing barriers to economic security, particularly for vulnerable groups.
---