CFP WINS "SME EXCELLENCE IN CORPORATE SOCIAL RESPONSIBILITY" DURING ASEAN BUSINESS AWARDS 2018
The ASEAN Business Advisory Council recognized Coffee For Peace, Inc. as the Country Winner and the ASEAN Winner for the Small & Medium Enterprise EXCELLENCE IN CORPORATE SOCIAL RESPONSIBILITY during the Gala Dinner last 12 November 2018 at the ASEAN Business Awards 2018, The Grand Ballroom, The Ritz-Carlton, Millenia Singapore.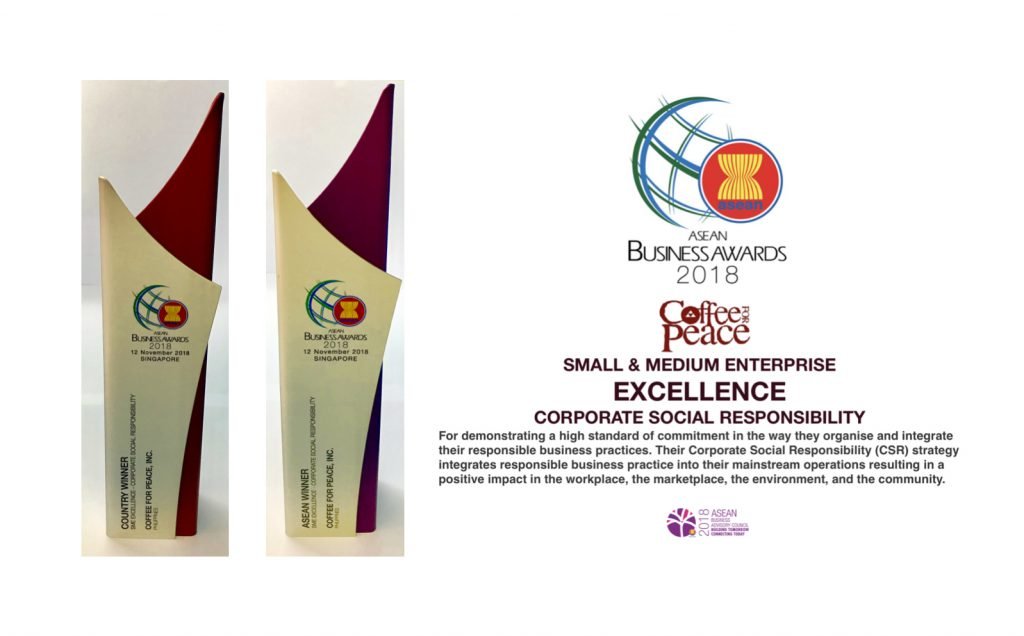 According to the organizers, business companies who would receive this prestigious endorsement must "demonstrate a high standard of commitment in the way they organise and integrate their responsible business practices…" Nominees "should provide evidence of a Corporate Social Responsibility (CSR) strategy that integrates responsible business practice into their mainstream operations resulting in a positive impact in the workplace, the marketplace, the environment or the community."
We congratulate our farming partners, serving partners, barista partners, community development partners, and investing partners for your excellence in your respective performances in winning this award. This award is yours!
We also want to congratulate our fellow Philippine finalists who received awards in different categories:
The Philippines won 8 out of 21 top awards.
The 12 November 2018 Awards Gala Dinner was graced by Singapore President Halimah Yacob, and Malaysian Prime Minister Mahathir bin Mohamad.